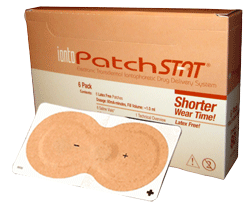 This is an excellent alternative for the delivery of the most commonly used anti-inflammatory: Dexamthasone. In the article "Joint Disease" in The Horse (Sept.01) Dexamethasone sodium phosphate was still listed as the premier drug of choice for reducing inflammation in horses. Dexamethasone's reasonable price makes it even more desirable.
There are down sides to the traditional method of delivery with injections, such as creating potential for infection, causing some tissue damage, and producing a certain amount of discomfort (ie: injecting the hocks can be quite painful). With repeated injections for chronic conditions, the pain, tissue damage, and even infections become an unpleasant cycle.
The IontoPatch allows you to safely deliver Dexamethasone direct to the site of the horse's injury. The medication is administered with a small battery-operated pad that ionizes the drug, providing direct infusion into the tissues. The method is similar to the new transdermal patches on the market for smoking, pain control, or birth control. IontoPatches enable you to heal your horse with no needles, no tissue damage, and no chance of infection.
How it Works
The IontoPatch works as a time-release system. This slow release is complete in 4 or 14 hours (depending on model), then you remove the pad and discard. One application can produce up to 50% reduction in a horse's swelling. If a horse's injury is older it will take more treatments than if it is on a fresh swelling. For example, on a hard bump that was 30 days old the same reduction applied (50%), but took an additional four treatments to reduce the bump on the horse from a golf-ball sized lump to a slight, smooth protrusion.
Simple to Use
Clean the site and wet the area to be treated equal to the size of the pad. Then apply 1.6cc of Dexamethasone to the negative side of the pad and the same amount of saline (water) to the positive side. The pad has adhesive edges and sticks well to the site.
I've used the IontoPatch with good results in numerous locations on the legs to treat horses with splints, bumps, hock pain, and suspensory swellings. On lower-leg applications it is easy to apply the pads, and I add a little masking tape and vet wrap for additional security and to guarantee a continuous seal. When treating a horse's hock area, the pads squish well into the grooves and stay in place. Put one pad on each side of the hock, which is a treatment that can sometimes replace injecting a horse's joints.
If you feel the IontoPatch is not going to fit a certain location that needs treatment on your horse, using the traditional method of using a phoresor would be a good option. When using a phoresor the medication is delivered in 10 to 15 minutes per polarity. This means delivering a negative drug only will take 10 to 15 minutes and delivering an additional positive drug will take another 10 to 15 minutes. The drugs are all applied at once so the additional time is simply an instrument function.
Additional Pain Reduction
By replacing water with Sarapin on the positive side of the IontoPatch, you provide your horse with additional pain relief that is quite soothing to the horse's injury. Most veterinarians stock Sarapin and Dexamethasone in a standard 4mg/ml dosage and this works well. However, you can increase the potential for results by upping Dexamethasone to 10mg/ml as suggested by the study done by Andreis J. Kaneps, A. Morrie Craig, and Karen Walker at the College of Veterinary Medicine, Oregon State University (99).
The best option is to contact a compounder that specializes in phoresing medications. By using specialized phoresing medications, you get no unneeded ingredients and more transferable ions.
Working with Your Veterinarian
Your vet can administer the phoresing treatment on your horse or you can self-administer. The battery-operated pads are as easy as putting on a band-aid and with minimal training using a phoresor unit is not difficult to master. You will need to work with your vet to obtain the medication and determined the amount of treatments needed. Also, your veterinarian may be able to rent or loan you a phoresing instrument. To obtain phoresing medications, your vet can write you a prescription for submission to a compounder for medications that are specially made for iontophoresis.
Article Update -2020
"New Weapons for the Lameness Battle," Practical Horseman (Apr 02) mentions that phoresing might not be as successful as injection due to the lesser amount of 6cc of drug used. With the improvements in drug delivery electrodes  we are successful with 2cc -4.cc of Dexamethasone at 4mg/ml.  Also, due to the the low dosages of medications and the noninvasive procedure, you can treat as often as needed with no side effects.
New study was released that reflected recent issues with the IontoPatch in delivery reliability.  Matrix is not stocking the IontoPatch brand until we know more on this subject. Option:  MCT Patch circuit with 4cc phoresing pads.  
Get Started Today
Check out the Products page to find the right option to add to your therapy toolbox!
Copyright © 2011, 2020 Matrix Therapy Products Corp. All rights reserved. Reproduction in whole or in part without written permission is prohibited.