While watching the 2018 Kentucky Derby I found myself studying the horses bodies.
Partly because it is becoming a habit from assisting Bambi Dorè in her body work courses, and partly because when we do microcurrent therapy with Matrix Best-Vet our eyes learn to recognize subtle distortions. 
It is a totally unfair screening as the opportunities for proper viewing of the entire horse is limited to brief moments (particularly on television) when there is more emphasis on panning the crowds and the talking commentators. 
One horse jumped out at me and I snapped these pictures with my phone. The horse, Kentucky-bred European based Medelssohn. My instant reaction is I wished that I could have done a microcurrent treatment on him when he arrived. I figured he would not do well. In fact, he came in dead last.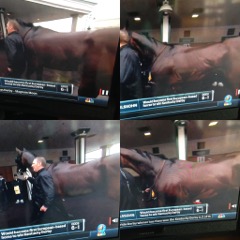 This is not to disparage this lovely horse, just bringing to our attention that any opportunity to study horses can help with knowledge towards being a better body worker.
Looking up his career for this article, Medelssohn had already been raced hard in his career and is only a two year old.
Whether making a purchase, improving performance, or dealing with lameness;  seeing distortions in the structures of the horse and knowing how to correct them is an ability that if we all had – well you can only imagine how different the outcomes would be in the quality of life for horses. For those taking Bambi's courses consider this good homework practice.