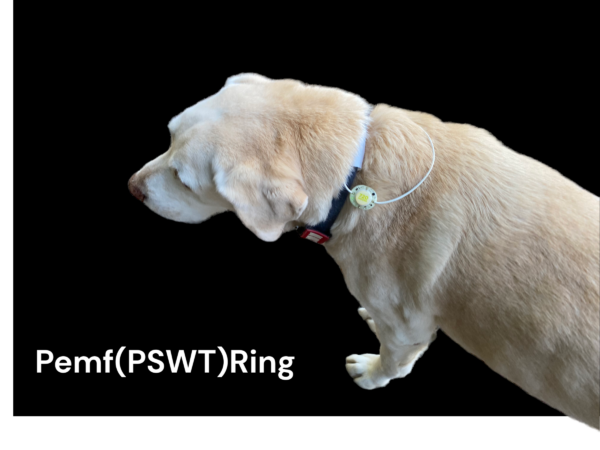 Canine Study using the PEMF (PSWT) Rings by Deborah Powell 
A total of 49 dogs completed the study, 26 in the treatment group and 23 in the placebo group. During the 14-day study, there were initially 11 more dogs, but they destroyed the ring by chewing them up. This reminds us to secure them properly and not let them be chew toys.
"Pulsed Shortwave Electromagnetic Field Therapy Increases Passive Range of Motion and Reduces Chronic Pain Due to Osteoarthritis in Canines by Tanya Ella Sprunks, Kenneth J. McLeod, and Richard Staelin
The medical device was secured to the dog's collar near the cervical spine region, where the nerves from the front limb enter the spinal cord. No side effects were reported. Average pain scores for the treatment group were reduced by 45% compared to the placebo group, and average Passive Range of Motion (PROM) scores increased by 5.51 degrees relative to the placebo group. In all, 65% of the treatment group successfully reduced pain, and 96% of this group showed either increased PROM or pain reduction or both. Most of the pain changes occurred within the first eight days of treatment.
The complete study here: